Sightseeing information
Northern Japanese Alps

These are the most beautiful mountains in Japan.You can enjoy spectacular scenery here all year round.It takes about an hour and a half to get there from Takayama.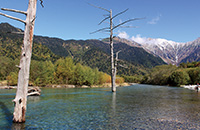 Kamikouchi

Kamikochi is a remote mountainous highland which has been preserved in its natural state. It's Japan's most famous alpine sightseeing destination.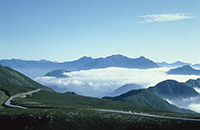 Mt. Norikura

Mt. Norikura is the third tallest volcano in Japan. There are eight plains and 12 crater lakes on the mountain that were formed by volcanic activity. It has a variety of plant and animal life on its slopes.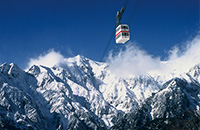 Shinhotaka Ropeway

The double-deck gondola will take you to the world above the clouds, 2,156m above sea level. From the Observation Deck at the top of the mountain, you can enjoy a wonderful panoramic view of the Northern Japan Alps.
→Official website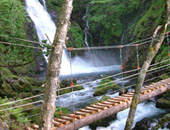 Goshikigahara

In this protected natural area, you can enjoy pristine forests, waterfalls, marshes, rivers and local plants and animals. It's only open from the middle of May until the end of December.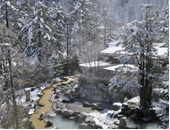 Hirayu no Mori

This is an outdoor hot spring spa resort in Hirayu Onsen. At the spa restaurant, you can try Hida beef and local noodles.
→Official website